SABC – Vuka Mzansi
3-12 December 2020
#GROOTtrauma – Borskanker en nuwe tegnologie
07 October 2020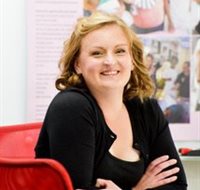 Local #WomeninScience breaking barriers, adding value to scientific community
11 February 2021 – BizCommunity.com
Another woman pushing the limits of science is Kathryn Malherbe. MedAI Sol is working on the development of deep machine learning (DML) and artificial intelligence (AI) software for breast cancer identification and segmentation for breast ultrasound in the diagnostic imaging sector.
Having worked in clinical practice for the past 15 years, she was inspired to understand why breast cancers are at times missed during ultrasound imaging.
"In order to do give cancer a 'name', you require on-site infrastructure to do a biopsy to send to the pathologists who have to evaluate the breast tissue under the microscope to identify what type of cancer it is. Most clinics don't have the facilities needed, and having thorough biopsies done can take up to six months for a patient to get the answer they need, delaying their standard care of practice," says Malherbe. "Our innovation can make a real change in the high mortality rate currently associated with breast cancer in South Africa," she adds.

SA Breweries pumps R12.6m into social innovators and disability groups
10 February 2021 – News24
Article by Malibongwe Dayimani
A total R12.6 million in grant funding and business development support was given away to 17 social innovators and disability groups at the 10th annual SAB Foundation Social Innovation and Disability Empowerment Awards.
The ceremony was held virtually on Tuesday.
…
About the social innovation awards, first place joint winners:
Agricool Finance based in KwaZulu-Natal, is a digital crowdfunding platform developed by Zamokuhle Thwala, that creates financial inclusion by providing small holder farmers with finance and market opportunities through its digital platform.
Meat Naturally, social enterprise based in Mpumalanga, founded by Sarah Frazee, that supports communal farmers in building a sustainable farming model and provides market access for red meat producers.
Third place finalist Invisio Al, founded by Kathryn Malherbe, took R850 000 in funding. Invisio AI uses machine learning to identify, segment and predict breast cancer type by means of ultrasound images and algorithms.